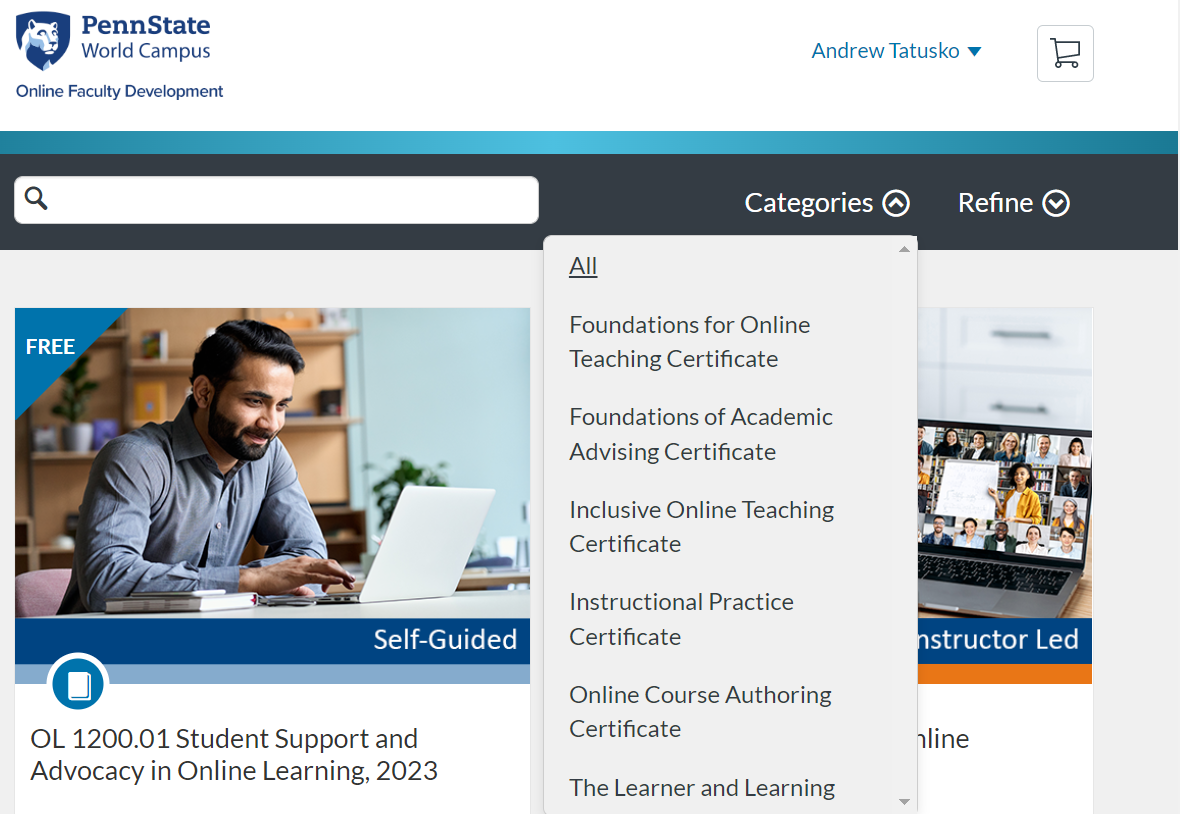 Course Schedule Update
Along with the launch of our new Canvas Catalog registration system, we are beginning to roll out more courses and a course schedule that is restructured to spread out course offerings that are in the same certificates or closely related to each other. We are also working with academic programs on processes to onboard new faculty who are required to complete one or more of our courses. 
Starting on January 1, 2023, all Self-Guided courses will be offered on an open-enrollment basis. This means that as soon as you receive a confirmation email that you are registered for any Self-Guided course, you may begin working on that course immediately. You will have 30 days to complete Self-Guided courses but may work on them at your own pace during that 30 days.
The updated All Courses page lists which courses are Instructor-Led and the months in which they start and the Self-Guided courses if you need a full-year schedule to plan your activities. This schedule is replicated in the Canvas Catalog registration system. 
Updated Certificates
We have also updated our certificate structure to combine newly added courses, such as OL 3600: Universal Design for Learning, and to maintain consistency with courses that have related objectives and competencies. If you have recently completed an Online Teaching Certificate, were very close to completing one, or think any of these changes may have affected your progress, please let us know. We are happy to work with you and exempt you from current changes based on previous progress on an as-needed basis. 
You will see on the Canvas Catalog registration page that you can sort course listings based on Online Teaching Certificates using the Categories link.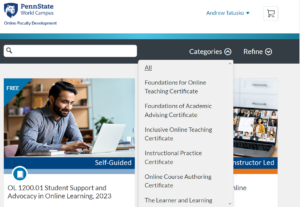 While actual certificates for each Online Teaching Certificate will be sent to you from the World Campus Online Faculty Development office, you are now able to download certificates for individual courses that you have completed through the Canvas Catalog Dashboard.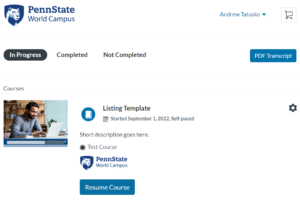 How Can We Work with You?
We have worked with several programs in the past to customize the development and training for their faculty. We are interested in developing different pathways through our curriculum to meet the needs of faculty in their local circumstance. Sometimes this means looking at specific topics or competencies in our curriculum and stacking those with pedagogical concepts specific to an academic discipline or policies and student needs specific to a College or Campus. 
If you are interested in developing a customized pathway through our curriculum to meet the specific needs of your faculty and students, please contact Drew Tatusko at amt19@psu.edu.